Colour Me Beautiful offer a range of services and consultations for the bride-to-be, the mother of the bride, the groom and all the wedding party!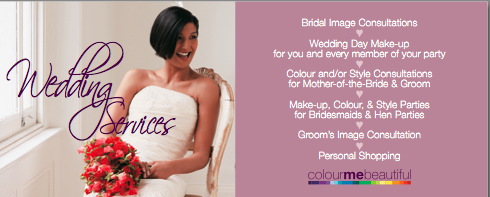 BE A BEAUTIFUL BRIDE consultation
This is newly designed consultation for brides which includes a wallet with 36 fabric swatches, a specially designed personalized bridal style guide, and a copy of Be a Beautiful Bride (Hamlyn) which will be your trusted style companion from buying your dress to accessorising. Its easy step by step approach with our top consultants to help you:
Choose the right white/ivory/cream and accent colours
Find the right style for your body shape and personal taste
Choose accessories and hair styles to complete the look
Get the perfect make-up look
Dress the bridesmaids and bridal party too!
Making it easy to Be a Beautiful Bride
Get your Gift Card for The Bride Here
Walk up the Aisle in Style
It doesn't matter what type of wedding you're planning, finding the perfect dress for your big day can be the biggest challenge.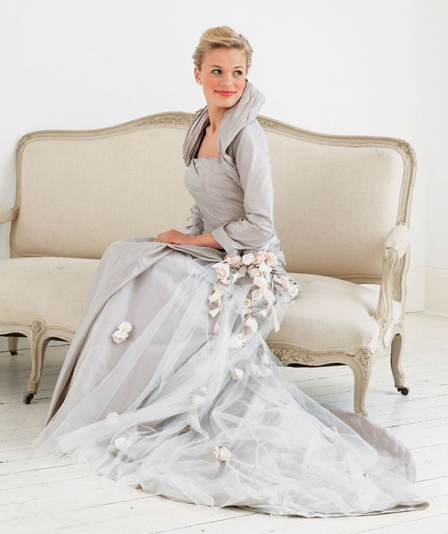 Published March 2009 Be A Beautiful Bride (Hamlyn ) from colour me beautiful, is packed full of useful advice that is guaranteed to ensure you look fabulous on your wedding day.
colour me beautiful consultants offers a range of bridal services from a bridal consultation including colour and style for the bride; make-up advice whether that's a make-up trial or full make-up on the day.
Bridesmaids can be offered fashion and style advice at bridal parties, these can take place before the dresses are chosen or as an alternative to a traditional hen night.
Walk up the aisle in style from Europe's leading image consultants
Whether you've been sketching wedding dresses since the age of 8 and need a help to turn your vision into reality,  and feel like you're drowning in a sea of bridal magazines, a colour me beautiful consultation could be just what you need.
Whatever you choose to wear for your wedding day, you want to know that it suits you perfectly, so that you look and feel fantastic. With so many different styles available, it can be difficult, even daunting, to make a choice. A consultation with a colour me beautiful image consultant will guide you through the decision process.
Our services can be applied equally to bridesmaids, mother-of-the-bride, and other members of the bridal party.
STYLE
Regardless of whether you've decided on a traditional wedding or a more informal occasion, a Bridal Style Consultation will show you how to select the styles that suit your body shape and personality. You'll learn which cuts, styles and fabrics are best for you, so you know what to look for when shopping for your wedding dress to the befores afters or  honeymoon wardrobe.
COLOUR
Do you know what the best white/cream/ivory is for your colouring? Whether you want to wear traditional white or colour to walk down the aisle, you need to be sure that it is the best tone for you. colour me beautiful image consultants are experts on defining what colours are best for you depending on your skin tone, hair and eye colour.
A Colour Consultation will assess the colours that suit you best and how to wear them. From your wedding dress and flowers to your wedding night lingerie, colour me beautiful can show you what the most flattering colours are for you.
Entrusting your bridal make-up to a professional will give you one less thing to worry about on the day and will also give you the confidence of a look that flatters your individual colouring. By using our professional skills and the latest make-up techniques, we'll ensure your make-up looks great and stays put!
With your initial practice run-through, you will have plenty of time to decide on the colours and techniques that you want on the day. Your consultant can teach you how to apply the make-up yourself, or you have the option of asking the consultant to do your make-up for you and any other members of the bridal party on the day.
If the groom needs a gentle steer in the right sartorial direction, why not book an appointment with his   colour me beautiful image consultant? A consultation can help in ensuring that your wedding style and colour scheme is carried through to the groom and compliments him too.
See our wonderful be a beautiful bride book or have our special   'be a beautiful bride consultation'
Get your Gift Voucher for Him Here