Add a little colour to your life!

Image Consultant Services
Do you want to feel more confident about yourself?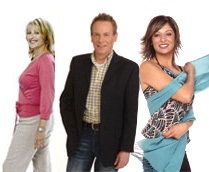 You can, just by discovering your best colours and styles, and by learning a few essential grooming tips.
Enjoy a Colour Analysis, Style Consultation or Makeup lesson in the UK, Ireland and Europe
At colour me beautiful  ' we believe that everyone has the right to realise the full potential of their personal image'. That's why we have developed a range of services designed to help you make the most of yourself.
By looking at aspects such as colouring and body shape, as well as personality, lifestyle and budget we are able to advise you on how to achieve the image you really want.
All colour me beautiful image consultants will tailor their services to your individual requirements on a one-to-one basis in their studio or parties. Group consultations can be arranged to take place in your home, any desired location or in Dublin. Visit our directory to find your nearest image consultant.
Whether you are seeking a personal colour analysis, a group style consultation a make-up lesson party or a bridal makeup consultation, all our services are delivered by a professional image consultant in a clear and easily understood manner. colour me beautiful cosmetics and our magnetic colour box system means that our products are reusable, less wasteful and contain a much higher recyclable content than any other cosmetic brand. See our online shop for our full range.
All our consultations are flexible in both the content you wish to include and the time and budget available to devote to your image.