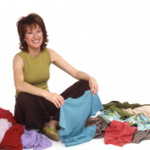 Not sure what's in or out of fashion?
Wardrobe full but you've nothing to wear?
Most women wear only 20% of their wardrobe!
Why waste the space?
Get your wardrobe working for you! Free up space for new items to refresh your look. Colour me Beautiful consultants can help you decide what to keep – and what to trash!
Result: Fewer clothes – more outfits!
Colour me Beautiful advice can give you a wardrobe that works.
What's involved:
we look through your wardrobe & help you sort the good from the bad
we show you how to create more outfits with fewer clothes
we show you how to keep only clothes that flatter your colouring, bodylines, proportions & personality
we give you a guide to help de-clutter your wardrobe & remember what you've learned
Be confident in your wardrobe with our help.
The minimum duration for a wardrobe weeding session is 1 hour.