Parties are a great way to get some friends together for some stylish fun and getting a taste of the colour me beautiful experience.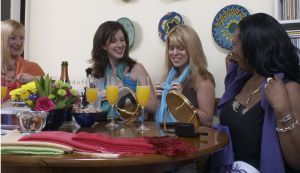 You can choose whether you want your party to focus on colour, style, make-up or fashion – it is entirely centered on your group. The atmosphere at colour me beautiful parties is fun, social and interactive, so everyone gets involved. As a reminder of all the tips you pick up, everyone receives a goody bag full of information to take home. Our parties are perfect for hen-nights, baby showers, busy mum parties, or simply as an excuse to get your group of friends together!
Colour Party
Learn about your dominant colouring and what that means to the clothes and make-up you wear. Everyone will see how to apply make-up and have the opportunity to try the exclusive colour me beautiful range.  At a 'Colour Party', everyone receives their own wallet* containing fabric swatches as a guide for shopping.
If you like the service, you can always trade up to a full Colour Consultation later.
*optional
Style Party
At a Style Party everyone will learn how to select the most flattering styles and fabrics for their body shape. You will also find out what your unique style personality is and how you can express this through your wardrobe. Bring along some of your own clothes to understand what's right (or wrong) about them. You never know, you could end up swapping your clothes with some of your friends.
Make-up Party
Learn what make-up colours suit you and what your beauty personality is. Make-up application techniques will be shown with a unique make-over by the end of the evening. Find out how you can take your day look to evening and leave knowing that everything you've learned is contained in your personalized Beauty Workbook.
Essentials Update Party
Essentials Update takes the exhaustion and frustration out of looking up-to-date by helping you to discover which of the current  fashions are most suited to your shape and colouring. Advice on 'must haves', make-up, and where to shop for the season is included. Simple ideas for updating your wardrobe and accessorizing will help keep your look current, regardless of your budget. Everyone will receive an  update booklet, so you can take the new looks in your stride.
We can cater for up to 4 in-house at our shop in Dublin 2, on request. Feel free to call, email or drop in to discuss your requirements and we can tailor a party or workshop to suit your needs.
Colour Me Beautiful, Studio, Dublin 2 and consultants all over the country. Tel: 01 6798992 or email: info@cmbireland.com