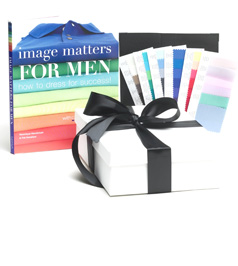 Mens Personal Image DayWhether he is building his career or about to retire, this  consultation for men is the first step towards a new image.
This complete gift package for the man who has everything or has he?
During this  consultation he will be shown what his best colours are and how to combine them, for maximum impact.
He will receive a wallet with 42 fabric swatches  for suiting, shirts & ties.
The invaluable tool for when he is shopping.
This special Gift package also includes a copy of  ' Image Matters for Men'
plus guidelines and notes on what suits  his body lines, and then he puts it all into practice  on  a 2 hour shopping trip.
This  package also includes a copy of Image Matters for Men* .
Duration: A whole day focused on him!
Please enter the name of the person you are buying the Gift Voucher  for  in the section for Shipping address  with your own address
This way we know the correct  name to put on  the voucher. €400 buy it now & save 10%

(*only limited numbers available.)