Our Personal Stylist e-learning Course has been designed to enable you to learn all the skills and knowledge that you need to become an outstanding Personal Stylist or Personal Shopper.  This is the most advanced Course of its kind and we constantly update it to ensure you are provided with the best possible learning experience.

Colour Me Beautiful offer professional, leading edge, high quality training, wherever you are in the world. We are the international leaders in training Personal Stylists and we can bring you the best e-learning experience available anywhere today.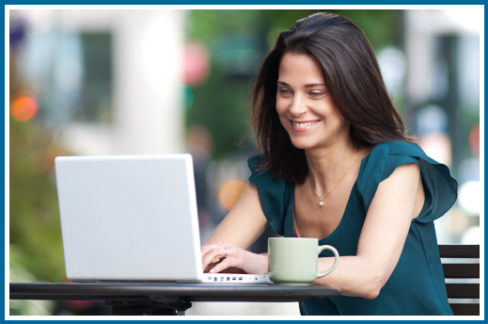 Who is the course designed for?

The course is designed for trainees worldwide and should take about 40 hours of concentrated study.  Although the course is in English, it is also designed for candidates whose first language may not be English.
There are no pre-requisites for signing up for this course, we will take you through all the theory and practical sessions building your knowledge and confidence in the subjects.
So, whether you are looking for a career change or adding these services to an existing business, it will work for you.
Throughout this Personal Stylist E-learning course we will give you the technical knowledge you need to become a personal stylist as well as encourage you to develop your practical styling talents on future clients.  We believe this is truly the only way to learn and develop your skills.
The course must be completed within a 6 month period.
Benefits
The key benefits of this international Personal Stylist e-learning Course are:
You can begin your learning within hours of making payment
You have immediate access to the whole course online
The course includes interactive tests, questions, case studies and a final assignment.
You can download all relevant manuals and workbooks
You will have the option of your own personal tutor, one of our leading trainers, to help and guide you via email/skype.
You can study as quickly as you want and at times that suit you
You can revisit any lessons at any time
You will receive our e-Learning Certificate of Achievement
You will have the confidence to practice as a Personal Stylist and it can be your first step to qualifying with us (contact training@cmb.co.uk for more details)
You will also receive one of each of our dominant colour wallets (6 in total) plus our latest books, Colour Me Beautiful and the Make-up Manual (published by Hamlyn-Octopus), so you can start working with clients as soon as you qualify.
What our newly trained Personal Stylists say
"I had been for a colour analysis with a Colour Me Beautiful consultant and was very impressed.  On reviewing the Colour Me Beautiful website, I was pleased to see that there was an e-learning version of the Personal Stylist course. This suited me perfectly as I work full-time.  I have found the course to be both fun to complete and easy to follow.  The documentation is excellent, the videos are very clear and helpful and if I had any queries or concerns, there was always enthusiastic support at the end of the phone or an email which was also extremely helpful.  I would absolutely recommend doing this course. I have thoroughly enjoyed it and I am loving putting what I have learned into practice.
I have since gone on to become fully qualified as a Colour Me Beautiful consultant by attending the Colour and Make-up training in London."

Rosie, United Kingdom. 
"I have followed the Colour and Make-up course in London and I have followed the Personal Stylist e-course and I did not regret one minute…
My opinion: value for money!
I have a boutiuqe in Belgium and after following the course, I have started immediately with my Colour Studio, a combination of selling clothes and giving colour consultations.
You have to build up your customer base and it will take a litlte time, but when people trust you and believe you, they send other clients to you and your business will grow.
CMB offers you a lot of support.  If you have any concerns, you can always contact your mentors or your colleauges and they organise seminars to keep you up-to-date.  I have been to one last week and I felt like I was family.
In all honesty, CMB is without doubt a leading company, particularly when I compare it to other similar companies in my country and abroad.
If you want to follow the course, don't hesitate!  The course is a high standard, the support is quality and the rest you have to do yourself.  They give you the self-confidence on the course and you have to pass on this confidence to your clients; it will work."

Kitty, Belgium.

Course content and approach

This course covers the same content as our face-to-face Personal Stylist  training courses that take place in London
The course uses visual and audio learning techniques and combines teaching with continuous interactive tests, self assessments, tasks and case studies. It is an easy learning format broken down into ten concise lessons for confident understanding.
Everything you need is at your fingertips.  In addition, a comprehensive manual can be downloaded as a PDF as you work through the course.


Tutor support

When you register, you have the option to select a personal tutor who will guide you through the course and who is available to answer any questions you may have via email or skype.  Our personal tutors, who will be one of our experienced trainers as well as an experienced personal stylist, will guide and help you through your studies.
We are passionate about ensuring our trainees become outstanding personal stylists.  If you would like to, you are welcome to discuss the course with Shan Williams, our director of traiing, directly before you sign up. E: training@cmb.co.uk  M: 07771 511 120

Investment/payment methods
The cost of the International Personal Stylist e-learning Course is £995, $1,625 or €995 and you can begin within minutes by setting up an e-learning account and making payment.  If you chose to take the course without a personal tutor, then the cost is £795, US$ 1,295 or €795.
You will receive by post a copy of Colour Me Beautiful and the Make-up Manual (by Hamlyn and Colour Me Beautiful) as well as one of each of the six dominant colour swatch palettes (to demonstrate to your clients what colours suit them)  These are included in your course price.
Payment is handled by PayPal who accept most credit and debit cards.  After payment, you will have access to your e-Learning Course withing seconds. You can study at your own speed, in your own place and at times to suit you.  You will have up to six months to complete the training.

Terms and conditions

Apart from our terms and conditions, there is no contract and there are no future obligations.

Certificate

At the end of your e-learning course you will receive a certificate that you will be proud to display in your home or studio.

Further questions

If you have any further questions about this e-learning course please visit our Frequently Asked Questions or call Shan Williams, our director of training, on M: 07771 511 120 or email her on training@cmb.co.uk. If you have questions about any other aspect of our training courses, please use the same contact details.
Click this link to create your e-learning account and access our payment facility.  You can begin your training for a new career within minutes.
Once you have paid, you will be directed the our e-Learning Home Page to access the course.